Wix.com offers a user-friendly DIY (web design) platform that is optimized for mobile use. With a vast selection of hundreds of templates, you can easily choose the one that suits your needs. The platform operates on a drag-and-drop system, eliminating the need for programming or application coding. If you opt for Wix's complimentary subdomain (e.g.: yourname.wix.com/sitename),the entire process, from template selection to creation, backup, and publishing, is entirely free of charge. Furthermore, Wix websites can seamlessly integrate with paid Premium Plans, allowing you to connect custom domains or establish online stores, making the expansion of your online business a breeze.
Our company has taken the initiative to create a Chinese tutorial website at www.wixhk.com (built using the Wix platform). The primary objective is to facilitate individuals interested in building their own websites, making it easier for them to grasp the skills and enjoy the process of web development using Wix.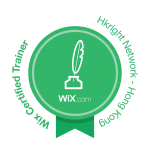 Wix Officially Certified Teaching Instructor
Hkright Network – Hong Kong
Refresher Courses
Organized by HKPC Hong Kong Productivity Council:
How to plan and design "You Want" cloud website (One person, One computer)

Welcome to inquire about the latest course materials in 2019: wixhk@hkright.com
---
Value-added Services:
Wix Premium Plans – Paid services: eCommerce / Unlimited / Combo / Connect Domain. To inquire about these services, please apply for them by clicking here
For customers who have already applied for Wix Premium Plans and need to connect a local domain and email mailbox, please follow the instructions below to select a service plan.
Wix Site Builder Connect (Plan Code: SBCD): / Domain DNS One Time Setup Service HK$650
Wix Connect Cloud Email Plan: (Year)HK$816 up (For service plans of SBC2 / CM1 and above, the one-time Wix DNS setup fee can be waived. HK$650)
*The above services do not include Wix Premium Plan fees.
For inquiries regarding domain connection or local email services, please email us at wixhk@hkright.com, and we will have a dedicated representative follow up on your request.

*Our company is a partner of Wix and is not the Hong Kong branch or subsidiary of Wix. Therefore, our company does not provide phone consultation services for Wix. If you have inquiries related to Wix technical support, billing, or other service matters, please visit the local knowledge base at Wixhk.com: https://www.wixhk.com/glossary-search or the official Wix knowledge base on their website: https://support.wix.com.
**For more tips and tricks about using Wix, you can visit Wixhk's Facebook page or share posts: https://www.facebook.com/wixhk.
Thank You!